Garage doors play a vital role in every home. They protect your car and belongings and often act as an entry point into your house. However, traditional garage doors can be limiting when it comes to using your garage for other purposes. One simple and affordable solution is to install a garage door screen.
Nestled in the heart of Texas, Brenham is a vibrant community offering small-town charm and modern living. With its historic downtown, picturesque landscapes, and friendly residents, it's no wonder that homeowners take great pride in their properties. Investing in a garage door screen is one way to enhance your Brenham, TX, home. This innovative addition offers numerous benefits, including improved ventilation and increased safety. 
In this comprehensive guide, we'll explore the benefits of garage door screens and how they can improve your quality of life. Read on to discover the top advantages of garage door screens and learn how to transform your garage into a more versatile and functional space.
What is a Garage Door Screen?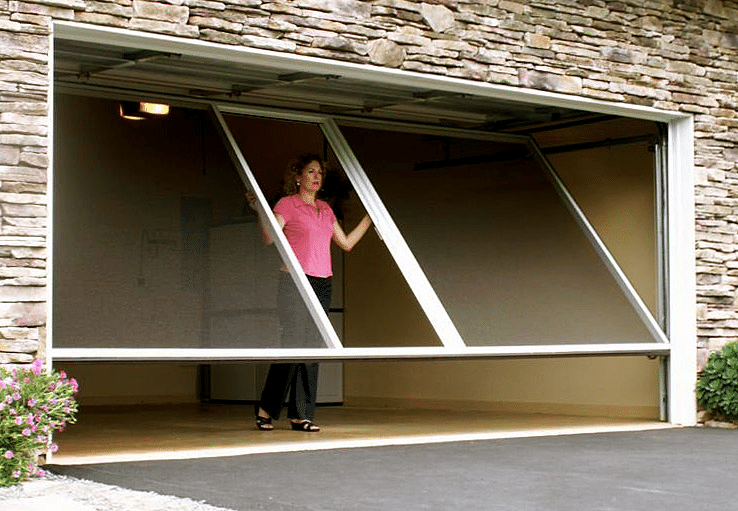 A garage door screen is a retractable or removable mesh barrier that fits over your existing garage door. Made from durable materials such as fiberglass, aluminum, or polyester, these screens allow fresh air and natural light to flow through while keeping insects, debris, and unwanted critters out. They come in various styles, sizes, and designs to complement any home's aesthetic.
Benefits of a Garage Door Screen
Improved Ventilation and Airflow
One of the primary benefits of garage door screens is their improved ventilation and airflow. Traditional garage doors can make your garage feel stuffy and stale, particularly during the warmer months. With a screen door, fresh air can circulate freely, reducing humidity, preventing mold growth, and providing a more comfortable environment for you and your family.
Additional Living Space
Installing a garage door screen can transform your garage into an additional living space. You can use this extra room for recreational activities, parties, or a quiet retreat. Retracting your garage door screen allows you to create an indoor-outdoor space perfect for hosting guests, playing games, or enjoying a meal with your family. Plus, garage door screens can be easily removed or retracted when parking your car or accessing your belongings.
Enhanced Privacy
Garage door screens can offer an added layer of privacy, allowing you to enjoy your garage without worrying about prying eyes. Many screens come with optional privacy panels, which provide a visual barrier between your garage and the outside world. This added privacy could make your garage a more enjoyable space for relaxation or entertainment.
Protection from Insects and Pests
One of the most significant benefits of garage door screens is their ability to keep insects and pests out. Traditional garage doors often leave gaps that allow bugs, rodents, and unwanted guests to enter your home. By installing a garage door screen, you can enjoy your garage without worrying about annoying pests like mosquitoes, flies, and rodents disrupting your activities or causing damage to your property.
Increase in Home Value
Installing a garage door screen can positively impact your home's value. Homebuyers appreciate the versatility and functionality a screened-in garage offers, making it a desirable feature in today's competitive housing market. By investing in a garage door screen, you're not only improving your quality of life but also increasing the value of your home.
Energy Efficiency
Using a garage door screen can contribute to your home's energy efficiency. During the warmer months, opening your garage door and using a screen allows for natural cooling, reducing your reliance on air conditioning. This can help lower your energy bills, saving you money and contributing to a more sustainable lifestyle.
Easy Installation and Maintenance
Garage door screens are relatively easy to install and maintain. A professional can install most screens in just a few hours, with minimal disruption to your daily routine. Additionally, garage door screens are typically low-maintenance, requiring only occasional cleaning to keep them looking and functioning their best.
Versatile Design Options
A wide variety of garage door screen designs are available, allowing you to find the perfect option that complements your home's aesthetic. You can choose the style that best suits your needs and preferences, from retractable screens to sliding panels. Many screens also come in various colors and materials, ensuring that your garage door screen enhances your home's curb appeal while providing the desired benefits.
Reduced Noise Pollution
Garage door screens can help reduce noise pollution inside and outside your garage. When your garage door is open, it can let in outside noise, disrupting the peaceful environment within your home. Using a garage door screen allows you to enjoy the benefits of an open garage, such as improved ventilation and additional living space, without being exposed to excessive noise. Also, garage door screens can help muffle sound from within your garage, ensuring that your hobbies or activities don't disturb your neighbors or other members of your household.
Installing a garage door screen can significantly improve your quality of life by providing numerous benefits, such as improved ventilation and airflow, additional living space, enhanced privacy, protection from insects and pests, increased home value, energy efficiency, easy installation and maintenance, versatile design options, and reduced noise pollution.
Investing in a garage door screen allows you to transform your garage into a more versatile, functional, and enjoyable space, reaping the rewards of this simple yet impactful home improvement project. So, take the time to explore the various garage door screen options available and discover how you can maximize your garage's potential and enhance your home's overall appeal.
How to Choose the Right Garage Door Screen for You
Garage door screens offer numerous benefits, from improved ventilation to increased home value. However, with various available options, selecting the perfect screen for your home can take time and effort. Here are the essential factors to consider when choosing the right garage door screen for your needs.
1. Measure Your Garage Door
The first step in choosing the right garage door screen is to measure your garage door. Accurate measurements will ensure that your selected screen fits seamlessly and provides the desired benefits. Measure the width and height of your garage door opening, and keep these dimensions handy when shopping for your screen.
2. Determine the Type of Screen
Different garage door screens are available, each with its advantages and installation methods. Some common types include:
Retractable screens – These are mounted on a track system and can be easily pulled down or rolled up when needed. They provide a sleek appearance and are perfect for homeowners looking for a low-maintenance option.
Sliding screens – These screens contain panels that slide horizontally along a track. They offer a more permanent solution and can be locked in place for added security.
Magnetic screens – These screens attach to your garage door frame using magnets, making them easy to install and remove. They are budget-friendly but may not be as durable as other types.
Consider your specific needs, budget, and preferences when deciding the type of garage door screen that is best for you.
3. Choose the Material
Garage door screens are made from various materials, including fiberglass, aluminum, and polyester. Each material offers different levels of durability, maintenance requirements, and appearance. For example, fiberglass screens are lightweight, low-maintenance, and generally more affordable, while aluminum screens offer increased durability and a more polished look. Consider factors such as your local climate, expected wear and tear, and desired appearance when selecting the screen material.
4. Select the Design and Color
Garage door screens come in various designs, colors, and patterns, allowing you to find a style that complements your home's exterior. Choose a screen that matches your home's aesthetic and enhances curb appeal. Depending on your specific needs, you may also consider screens with additional features, such as built-in privacy panels or pet doors.
5. Consider the Installation Method
The installation method for your garage door screen will depend on your screen type. Some screens can be easily installed using DIY methods, while others may require professional installation. Before purchasing a screen, ensure you're comfortable with the installation process or factor in the cost of hiring a professional.
Choosing the right garage door screen for your home involves carefully considering factors such as size, type, material, design, and installation method. By considering these factors and assessing your specific needs, you can find the perfect screen that offers the benefits you desire while enhancing your home's appearance and value. Once you've made your selection, enjoy the transformation of your garage space into a more comfortable, functional, and secure area.
Elevate Your Garage Experience with the Perfect Garage Door Screen
Our Ultimate Guide to the Benefits of a Garage Door Screen has provided valuable insights into the advantages and considerations of choosing the perfect garage door screen for your home. At Circle B Overhead Door, we are proud to be your local, reliable source for all your garage door needs in Aggieland, particularly in Brenham, TX, and also serving Bryan, Caldwell, College Station, Franklin, Hearne, Navasota, and Madisonville Texas.
Our team of experts is dedicated to helping you find the ideal garage door screen to enhance your home's functionality, comfort, and value. To learn more about our comprehensive range of products and services, visit our website or call us. Let Circle B Overhead Door assist you in transforming your garage experience with the perfect garage door screen today.